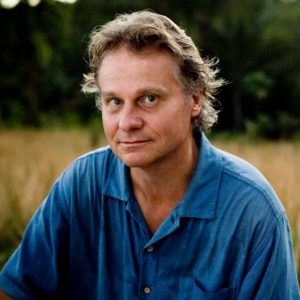 Wade Davis, PhD, is an Explorer-in-Residence at the National Geographic Society. Named by the NGS as one of the Explorers for the Millennium, he has been described as "a rare combination of scientist, scholar, poet and passionate defender of all of life's diversity."
An ethnographer, writer, photographer and filmmaker, Wade Davis holds degrees in anthropology and biology and received his Ph.D. in ethnobotany, all from Harvard University. Mostly through the Harvard Botanical Museum, he spent over three years in the Amazon and Andes as a plant explorer, living among fifteen indigenous groups in eight Latin American nations while making some 6000 botanical collections. His work later took him to Haiti to investigate folk preparations implicated in the creation of zombies, an assignment that led to his writing The Serpent and the Rainbow (1986), an international best seller later released by Universal as a motion picture. In recent years his work has taken him to East Africa, Borneo, Nepal, Peru, Polynesia, Tibet, Mali, Benin, Togo, New Guinea, Australia, Colombia, Vanuatu, Mongolia and the high Arctic of Nunuvut and Greenland.
Davis is the author of hundreds of scientific and popular articles and over 20 books including One River (1996), The Wayfinders (2009), The Sacred Headwaters (2011), Into the Silence (2011) and River Notes (2012). His photographs have been widely exhibited and have appeared in 30 books and 100 magazines, including National Geographic, Time, Geo, People, Men's Journal, and Outside. He was the co-curator of The Lost Amazon: The Photographic Journey of Richard Evans Schultes, first exhibited at the National Museum of Natural History, Smithsonian Institution. In 2012 he served as guest curator of No Strangers: Ancient Wisdom in the Modern World, an exhibit at the Annenberg Space for Photography in Los Angeles.
His many film credits include Light at the Edge of the World, an eight-hour documentary series written and produced for the National Geographic. A professional speaker for 30 years, Davis has lectured at over 200 universities and 250 corporations and professional associations. In 2009 he delivered the CBC Massey Lectures. He has spoken from the main stage at TED five times, and his three posted talks have been viewed by 3 million. His books have appeared in 19 languages and sold approximately one million copies.
Davis is the recipient of 11 honorary degrees, as well as the 2009 Gold Medal from the Royal Canadian Geographical Society for his contributions to anthropology and conservation, the 2011 Explorers Medal, the highest award of the Explorers Club, the 2012 David Fairchild Medal for botanical exploration, the 2013 Ness Medal for geography education from the Royal Geographical Society, and the 2015 Centennial Medal of the Graduate School of Arts and Sciences, Harvard University. His recent book, Into the Silence, received the 2012 Samuel Johnson prize, the top award for literary nonfiction in the English language. In 2016 he was made a Member of the Order of Canada.