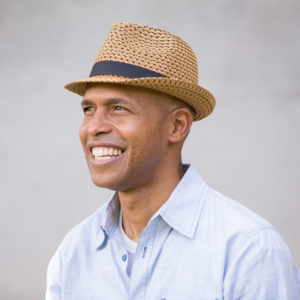 Solomon Masala holds a BS in Elementary Education and is a certified teacher.  Tapping into 25 years of experience and an engaging magnetism, Solomon delivers the antidote to the usual team development. He's pioneered a captivating blend of experiential, innovative processes designed to get teams to do what they really want: tap excellence, have an inspiring time doing it, and sustain breakthrough learning for the long run.
Solomon's not the person to call if you want a Power Point training. His programs are powerful kinesthetics – meaning people get up out of their seats, they experience, they engage, and they 'do' what's being learned. Learning not only sticks and keeps expanding after the training, excellence gets hard-wired.
Solomon brings this energy into everything: organizational development processes, interactive keynotes, corporate adventure experiences, and large scale percussion programs. And, he designs and develops multimedia curricula and interactive presentations on a national level..
True to form, Solomon keeps it active – he's trained and facilitated leadership development in almost every sector for over 20 years, and has recently become a Teaching Artist at the Kennedy Center for Performing Arts. He's the first X8 Drums endorsed rhythm program facilitator, a Meinl Viva Rhythms Facilitator and produced and directed the powerful Interactive Theatrical Experience: Za Boom Ba! He's the published author of two international classic rhythm education books, "Rhythm Play!™ and 1, 2, Let's All Groove," and as recording artist, has released three albums.