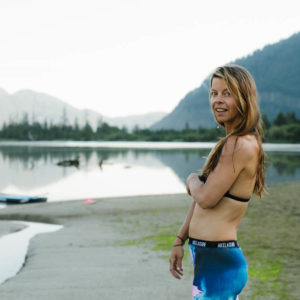 Marie-Soleil is a Certified Paddle Canada SUP & SUP Yoga Instructor. She is also a certified Cranio Sacral Therapist, Massage Therapist, and Yoga Teacher (RYT 200hr, Yandara Institute & 200hr Embodied Flow). Her yoga practice focuses on embodiment, flow and quietude to bring a sense of deep connection and awareness.
After a decade of paddling oceans, lakes and rivers, Marie-Soleil developed a stand-up paddleboard yoga program on Alta Lake in Whistler, BC. She has been teaching SUP yoga since her SUP Yoga and SUP Instructor certifications in 2015. She is the founder of Body Elements which offers healing therapies, yoga, workshop, retreats. She is a lover of the outdoors with surfing and stand up paddling being two of her favourite ways to connect with nature. She is passionate about sharing her means of connecting with the outdoors with others, to help facilitate not only the physical practice of moving in nature, but also the metaphorical aspect of paddling into a new way of being.
Her wish, amongst all that she offers, is to assist others in realizing their own potential as human beings; by sharing knowledge on how to bring more awareness into daily choices, and how to open up to opportunities to live life to its full potential.
A native of Quebec, Marie-Soleil moved to the west coast to follow her passion for traveling and seeking new adventures. She made Whistler her home in 1997 for the outdoor activities, healthy lifestyle and laid-back community.
Within each and everyone of us resides the potential for healing, where harmony and balance can be reinstated, if awareness is brought into the conscious mind.