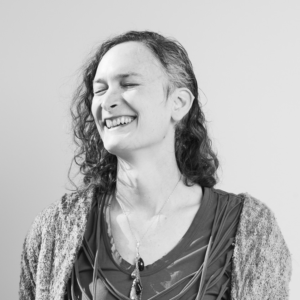 Brady Marks is a digital media artist working primarily in audiovisual practices, new media and kinetic art. She obtained an undergraduate degree in Computer Science from the University of Cape Town, South Africa, and a Masters in Interactive Arts from Simon Fraser University in Vancouver.
Her accolades include:
Tree Studies (2006) with Chris Welby – a three-screen digital media installation that displayed a real-time, weather-data transition system covering four continents that  presented at the Gwangju Biennale in South Korea
I Am Listening (2007) – an interactive light sculpture commissioned and acquired by the Surrey Art Gallery (BC) where it is on permanent display
7 piece collaboration with Geoffrey Farmer including:

And Finally The Street Becomes The Main Character (Clock) (2005–2008) – a sculptural installation with computer-generated sound presented and acquired by the Art Gallery of Ontario
Look in my face; my name is Might-have-been; I am also called No-more, Too-late, Farewell (2010–ongoing) – an algorithmic audiovisual installation presented at the Barbican (London), Luminato Festival (Toronto), and the Vancouver Art Gallery, where it was acquired
Let's Make the Water Turn Black (2013–15) – a 24-hour computer-generated installation composed of 50 light fixtures, 26 audio speakers and 18 synchronized, animatronic sculptures presented at REDCAT (Los Angeles), Migros Museum für Gegenwartskunst (Zurich), Nottingham Contemporary (UK), Kunstverein (Hamburg), Pérez Art Museum (Miami) and the Vancouver Art Gallery

In conjunction with VIVO Media Arts Centre (Vancouver), Brady received Innovations Grant from the British Columbia Arts Council for the research and creation of a volumetric display device that generated interactive 3D sculptural images. The device was presented at the 2015 International Symposium on Electronic Art.
As a graduate of Simon Fraser University, taught by faculty including original members of the World Soundscape Project (WSP), and as a member of the Soundscape Collective at Vancouver Co-operative Radio, Brady Marks is an inheritor of the WSP legacy of Acoustic Ecology. She is a frequent host of Soundscape on Co-op Radio, as well as a member of the Vancouver Electronic Ensemble and a DJ working under the alias of furiousgreencloud.