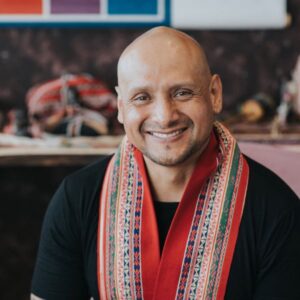 Jhaimy Alvarez Acosta is a Traditional Curandero (Healer) from Cusco, Peru who has been trained and initiated in the wisdom teachings of the Northern region of Peru, home to the ancient lineage of the Sacred Plant medicine known as Wachuma or San Pedrito. Jhaimy began his initiation onto this path at a young age and has apprenticed with Master Teachers in the Alchemical mystery teachings of transformation and transmutation. As a keeper of Ancient Wisdom, he has been invited to share his knowledge and lead ceremonies at conferences, workshops and specialized tours throughout Péru, Bolivia, Chile, Brazil, and most recently, Spain and Sweden.
Jhaimy holds a degree in Tourism from La Universidad Andina del Cusco, is the Founder of Traditional Andean Medicine Tours in Peru and has presented lectures and public talks at Trent University as an invited guest of the Indigenous Studies Department. He is a regular featured guest speaker in events across Canada and Europe as part of the Andean Wisdom Teachings series through Children of the Seven Rays and is best known for his heart-centered and humble approach to healing and spirituality.
Today, Jhaimy continues to be committed to the SERVICE OF LOVE and through ceremony, ritual and healing practices he supports people in moving past their limitations in order to liberate and connect with their heart and their purpose.