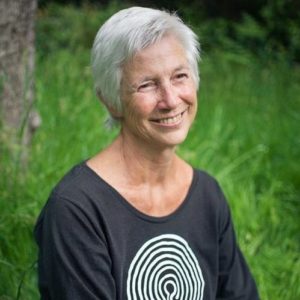 Donna Martin, is a certified Hakomi therapist and international trainer who worked closely with Ron Kurtz (the creator of the Hakomi Method) for twenty years. She was named in his will as one of seven "legacy holders" of his work and is a senior person in the international training association he created before his death, now called the Hakomi Network.
Donna has many years of experience as a body psychotherapist, stress management specialist, yoga and meditation teacher, and addictions counsellor. She has led Hakomi trainings and/or yoga retreats throughout Canada and the United States, Hawaii, Japan, Europe, Indonesia, South America, and Mexico. Donna has developed an original approach she now calls "psoma yoga therapy" which integrates yoga and Hakomi (mindfulness-based assisted self-discovery).
Donna has written many books which are mostly available through her website. She is the co-author (with Paul Brenner M.D.) of Seeing Your Life Through New Eyes, describing their original Family Triangles process for reviewing personal history and supporting insightful forgiveness and healing relationships. Donna also co-authored a book with Ron Kurtz called the Practice of Loving Presence.
hakomieducationnetwork.org 
vancouverhakomi.ca 
donnamartin.net