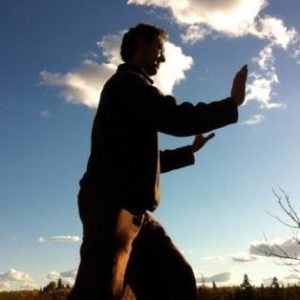 Paul Bromley is an Occupational Therapist, teacher and practitioner of Chinese Internal Arts for over 25 years. An avid student of various Tai Chi styles, Qi Gong systems, and other Internal Arts such as Liu He Ba Fa, Baguazhang, Xing Yi Quan, and Yiquan,  he travels the world to study with masters of these ancient traditions. He's made it his life's work to share their physical, emotional, and mental health benefits with as many people as possible.
Paul completed the Medical Acupuncture Program in the Faculty of Medicine at the University of Alberta with his dear friend and mentor Dr. Steven Aung.  He integrates his western medical knowledge, with Traditional Chinese Medical theory to continue deepening his understanding of the Arts that he shares.
A father of four, Paul enjoys a rich family life and strives to spread awareness and build a community of Tai Chi enthusiasts by teaching regular classes through his school, Inner Health Tai Chi. His latest endeavours include developing online Internal Arts training for those that may not have access to a teacher, or wish to expand their existing practices.