A Training in Lateral Liberation
With Kim Haxton
June 12 - 17, 2022
We are living in a time of high contrast. Collectively we sit on the verge of creation and destruction. Challenges to planetary well-being have never been more evident and creating opportunities for positive, actionable change have never been more vital.
Indigenous knowledge and other wisdom cultures are critical to transforming our culture from a consumer/material human-centered identity to one that is governed by natural law of respect, responsibility and reciprocity with the Earth. Explore Indigenous concepts of land, place, and decolonial practices (art, economics and gender) combined with embodied knowledge of Indigenous peoples. How we centre this knowledge can rupture the politics of what is considered valid "knowing"; getting comfortable with being uncomfortable.
We are in a place of coming to terms with the earthly reality of right now; climate change, uncertainty, social unrest, a pandemic. Develop skills and cultivate the courage necessary to hold the paradox of it. Aerate the soil to help get unstuck and we will create space so that we're more able to access the critical and creative thinking needed to imagine how we might do things differently. Together we will learn to laterally liberate consciousness.
Schedule
A detailed schedule will be available 1-2 weeks in advance of the program. View sample schedule here.
Terms & Conditions
You may find our terms & conditions here.
Health & Safety
Learn more about Hollyhock's current health & safety policies here.
Presenter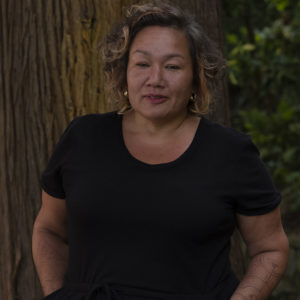 Kim Haxton
Kim Haxton (Potowatomi) is a multifaceted, multidimensional educator, rooted in knowledge and steeped in community. She is Potowatami from Wasauksing. She has worked across Turtle Island and abroad in various capacities, always emphasizing local leadership development toward genuine healing. In her work with Indigeneyez, a creative arts based organization she co-founded, Kim works with Indigenous communities toward decolonization and liberation. Grounded in the arts and the natural world for embodied awareness and facilitated rites of passage, Kim develops de-escalation skills and diversity and anti-oppression education. Kim currently leads Peace and Conflict Resolution programs in the Democratic Republic of Congo, cultivating…
Learn more about Kim Haxton